The Family of Joseph Bucklin 4th
Joseph Bucklin 4th was born 20 February 1719/20 in Coventry, Kent, Rhode
Island and Providence Plantations. He married (1) ZERVIAH SABIN 29 Sep 1751 in Killingly, CT6,7, daughter of HEZEKIAH SABIN. She was born Abt. 17328, and died 26 Sep 17768 , burial: Sep 1776, Sabin lot in North Burial Ground of Providence.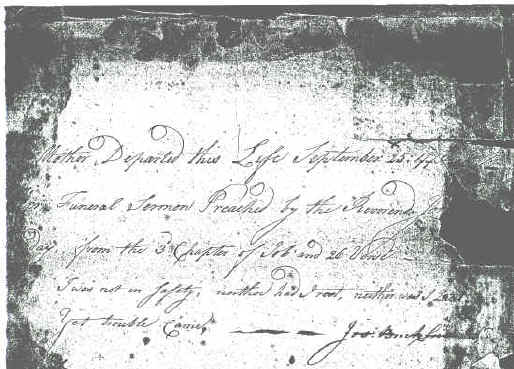 The above is the family bible note signed personally by Joseph Bucklin 4th (his signature matches that a bill he sent in his business). The portions still readable say: "Mother departed this life September 25, 1776 on ……er funeral sermon preached by the Reverent Jo…..day, from the 3d chapter of Job and 26 verse — I was not in safety, neither had I rest, neither was I lost, yet trouble came. Joseph Bucklin." [RIHS Manuscripts MSS Buchannan – Burgess box, Bucklin Family Deaths folder].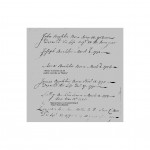 Click on the thumbnail to enlarge and see the family bible note made on the death of Zerviah by Nancy Bucklin. Nancy did not make any further notes in the bible about any Bucklin family deaths after the death of Sally Bucklin in 1785, so we have nothing there about Joseph or the second wife "Anne"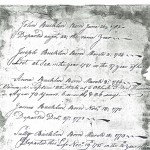 This is the family bible page apparently started by either Joseph or Zerviah, giving the birth dates of each child, and leaving space to insert something further. The sad thing is that no marriages were recorded in the insertions, only deaths.
Joseph's will of 1789 makes provision for a then living wife, "ANNE". She was still living when his will was admitted to probate and administered in 1790. Research is continuing to find out more about when Joseph married Anne, and who she was.
At the time of the marriage of Joseph 4th and Hezekiah, Joseph 4th would have been 31 years old, and Zerviah 19 years old. Research is continuing to find out more about her and her family than is found on her headstone. Because of the burials of her and her husband Joseph Bucklin's family in the lot of the Sabins in the North Burial Ground of Providence, the probability is that Zeriah was closely related to those Providence Sabins.
---
Sources regarding Zerviah Sabin:
Sabin Genealogy.

Thompson Congregational Church Records, Killingly, CT.

Headstone Data, view by Leonard Bucklin, June 2000, "In memory of ZERIAH Wife of Capt. Joseph Bucklin the daughter of Hezekiah Sabin of Connecticut who departed this life Sept 26, 1776 in the 45th year of her age."
---
Children of JOSEPH BUCKLIN and his first wife ZERVIAH SABIN were:
JOHN BUCKLIN, b. 22 Jun 1752; d. 22 Aug 1752
Burial: 1752, North Burial Ground, Providence, RI
JOSEPH BUCKLIN, 5TH ****, b. 02 Mar 1754; d. 1781,
Lost at sea
NANCY (aka Anna) BUCKLIN was born 1755, and died 28 Sep 1826. She married GIDEON ENSWORTH. 09 Dec 1776 in Canterbury, CT
Headstone Data, "Consecrated with gratitude and affection in the memory of Nancy Ensworth born Bucklin, relict of Gideon Ensworth, of Canterbury, Conn. She died in Providence September 28, 1826, in the 71st year of her age." Headstone is in North Burial Ground, Providence, RI.
Children of NANCY BUCKLIN and GIDEON ENSWORTH were:
i. JOSEPH BUCKLIN ENSWORTH, b. Bef. 1790.
ii. SALLY BUCKLIN ENSWORTH, b. Bef. 1790.
iii. NANCY ENSWORTH, b. Bef. 1790.
JAMES BUCKLIN, b. 18 Nov 1770; d. 27 Dec 1771
Burial: Dec 1771, North Burial Ground, Providence, RI
SALLY BUCKLIN, b. 14 Mar 1773.
"Departed this life Nov. 19, 1785 in the 14th year of her life."
Burial: Nov 1785, North Burial Ground, Providence, RI
---
More on Sally Bucklin
1.SALLY6 BUCKLIN (JOSEPH5, JOSEPH4, JOSEPH3, JOSEPH2, WILLIAM1) was born 14 Mar 1773 1,2, and died 19 Nov 17851,2,3,5,6. Burial: Nov 1785, North Burial Ground, Providence, RI7
Notes for SALLY BUCKLIN:
1. "RIHS Manuscripts," Maintained by Rhode Island Historical Society, MSS v. 14, p. 49, Buchanan – Burgess file, Bucklin family deaths folder, There is an undated and unsigned paper, but obviously written at the time of the death of Sally, among the various fragmentary items in this folder. It reads: "Saturday morning, Nov 19th, 1785. Died in the 19th year of her age Sally Bucklin Daughter of Joseph Bucklin, her early requirements joined to an engaging virtuous disposition rendered her dear to her parents and relations, who with all her acquaintances justly regret her loss .Life's blooming Spring just opens to our Eyes, and Strikes the Senses with Sweet Surprise, When Death's fierce arm uplifts the fatal blow, that hurls us breathless to the Earth below."
2. "Bible Record B-856," LDS Family History Library; Salt Lake City , UT.
3. Headstone Data, View by Leonard Bucklin in 2000.
5. "RIHS Manuscripts," Maintained by Rhode Island Historical Society, Buchannan – Burges file, Bucklin family deaths folder, handwritten family record., "Departed this Life Nov . 19th, 1785 in the 14th year of her age."
6. Providence Gazette, undated newspaper clipping found with handwritten family bible notes, "Dec. in this town, on Thursday last, in the 14thyear of her age, Miss Sally Bucklin [unreadable] She met the near approach of death with fortitude and patient resignation, so closed her prospects on this world with full assurance of a better. — Let the afflicted and surviving relatives derive comfort from the same source which administered relief to the last moments of their departed friend, and repose themselves in the justice and mercy of the divine dispensations. The funeral will be to-morrow, at 4 o'clock PM , when her friends and acquaintances may attend."
7. Headstone Data, Sterling grave # AA 00648., Rhode Island Cemetery Transcripts.