Are you interested in the hundreds of notable Bucklins?
no·ta·ble (nō-tə-bəl) adj. 1. Worthy of note or notice; remarkable, prominent, important, or distinguished. 2. Characterized by excellence or distinction; eminent. 3. a prominent, distinguished, or important person.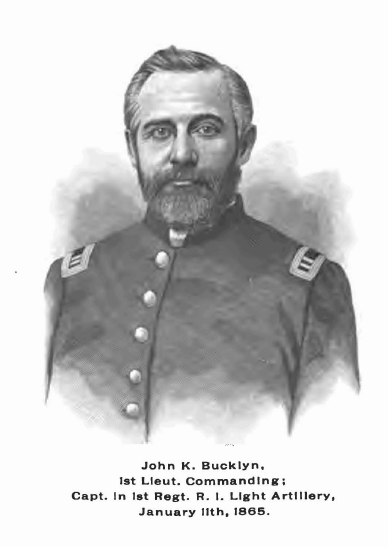 For example, the drawing above of a Bucklin who founded a college preparatory school, and who was awarded the Congressional Medal of Honor for heroic service at Chancelorsville in the Civil War. His Medal of Honor citation explains his bravery during a bloody battle. Read the biography of John K. Bucklyn for his civilian accomplishments, and that he really was a "Bucklin," but his father changed the spelling of the family name from "Bucklin" to "Bucklyn."
There are many notable Bucklins; We offer a selection from our database.
The most notable Bucklin for historians is the Joseph Bucklin whom Rhode Island celebrates as being the man who fired the "real" First Shot of the Revolution. Read about Joseph Bucklin who shot the English Navy ship captain in the 1772 capture and burning of the English Navy ship Gaspee.
So many Bucklins have achieved note as artists, that we have grouped some of them on pages reached through the "Noted Bucklins – Artists" section.
For example, one noted Bucklin artist is William Savery Bucklin,  a painter in the 1800's. He achieved great commercial success, and was widely known. His work included watercolors, oil paintings, murals in public buildings, and covers for magazines. This is a sample from our catalog of the art of William Savery Bucklin. W.S.B was best known for his cheerful forest scenes. Persons interested in social history will find him interesting because of his nurture by the Bucklin group at the North American Phalanx.