Biographical Notes on the Life of John K. Bucklyn
By Leonard H. Bucklin
John Knight Bucklyn (with a "y") was born on 21 April 1834 in Hopkins Mill, Forster, Rhode Island. His family line is firmly in the Bucklin (spelled with an "i") family line. John Knight Bucklin descended directly from William Bucklin who came to New England in 1630. (William – Joseph – Joseph, Jr – Benjamin – Squire – Squire, Jr. – Jeremiah – John Knight.) John's father – Jeremiah – was born into the Bucklins that had been in Forster since Squire Bucklin settled there as a blacksmith.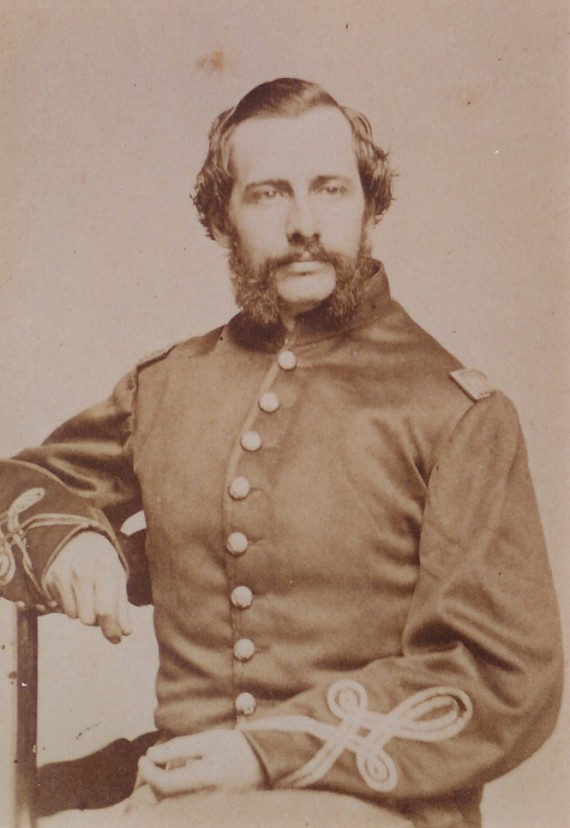 Father changed Bucklin to Bucklyn
It was only when the line reached Jeremiah, that Jeremiah decided to change his family name to "Bucklyn." All of Jeremiah's siblings retained the "Bucklin" without the "y" as it had been for several generations — except for brother Isaac, who changed his family's spelling to an "e" to be Bucklen!
Newspaper clippings show Jeremiah's "Bucklyn"s and Isaac's "Bucklen"s attending weddings and other family events of their siblings who retained the "Bucklin" spelling. We can conclude there apparently was no animosity that caused Jeremiah and Isaac to distinguish themselves from their ancestors, siblings, aunts and uncles by using a different spelling.
So why was there a "Bucklin" spelling change by Jeremiah and Isaac but no name spelling change by their siblings? We do know that both Jeremiah that changed to using a "y", and his brother Isaac who changed to using an "e," were more highly educated than their father and grandfather. Perhaps Jeremiah and Isaac each thought he "knew better" how the family name should be spelled.
Jeremiah's choice of changing the spelling was firm and important to him. He even had some relatives reburied with the new spelling in the new grave markers!
Education of John Knight Bucklyn
John Knight Bucklyn graduated from the Academy at East Greenwich, RI, and taught school in East Greenwich for a period until he returned to the Academy for additional education. In the fall of 1856 he entered the Smithville Seminary and graduated with a college degree in 1857. (One biographer indicates John had a Doctor of Legal Literature degree.) He then entered Brown University in Providence, RI, from which he graduated with honors, in 1861, with a Master of Arts degree. After his graduation he again became a teacher.
Military Service
When the Civil War started, John Knight Bucklyn enlisted in Battery E of the Rhode Island 1st Regiment Light Artillery, which was organized at Providence 23 Sep 1861. Bucklyn declined an offered commission as an officer, stating he wanted to earn his rank. He enlisted as a private and rose through the non-commissioned ranks and commissioned officer grades to become the commanding (brevet) Captain of the Battery E. Unit. The unit began its service at the effective start of the military campaigns of the Civil War, and participated almost continuously in battles, including the bloody battles of Bull Run, Fredericksburg, Chancellorsville, and Gettysburg.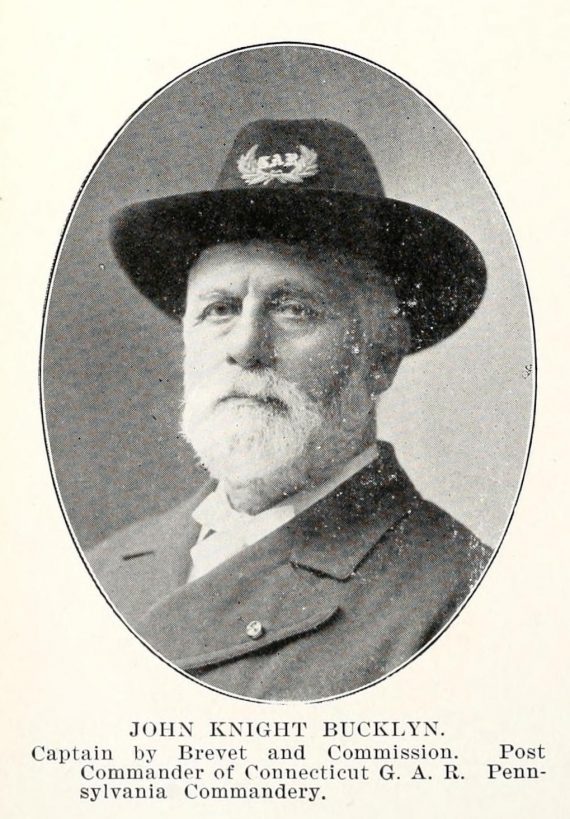 The above photo of John K. Bucklyn is from "Companions of the Military Order of the Loyal Legion of the United States," 1901, Page 292. Note: G.A.R. = Grand Army of the Republic.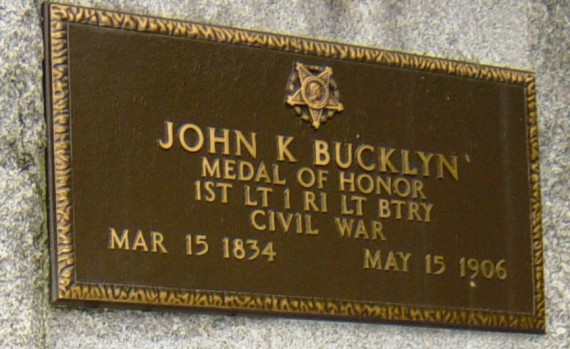 The appreciation his men had for Bucklyn as their commander was illustrated in 1886, when a monument was erected on the Gettysburg battlefield, to mark where Battery E had fought. After the service of dedication, several of the soldiers asked for permission, and were granted permission, to chisel at the bottom: "Lt. J. K. Bucklyn Commanding".
Civilian Career
After the Civil War, Bucklyn formed a college preparatory school at Mystic, Connecticut, the Mystic Valley Institute, and was its President until his death.
Gravesite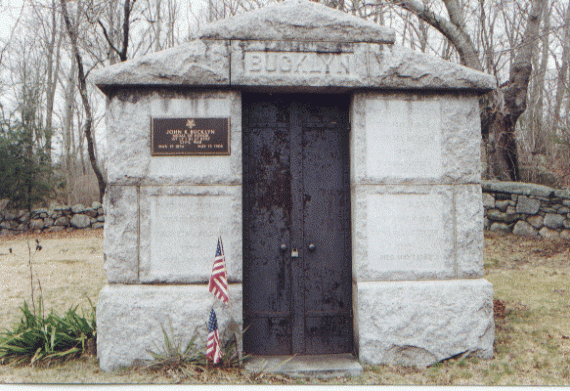 Bucklyn's tomb is in the Lower Mystic Cemetery (Fish Town Cemetery), Mystic, CT.