The Society's historical photograph depository is available for you to preserve your Bucklin family's photos taken before 1950 A.D. Photos give us not only family memories, but also valuable American history. The purposes of these photo web pages are to preserve and present drawings and photographs related to Bucklins, and — importantly — to encourage you to submit drawings, portraits, or photographs of Bucklins, their properties (house, business, horse, hat – anything) their graves – anything Bucklin – to us for electronic storage to be available for your family and future generations.
It is important to preserve the photograph record for the benefit of future generations. All pictures of Bucklins or of their properties or graves are welcome! Instructions to submit them are here.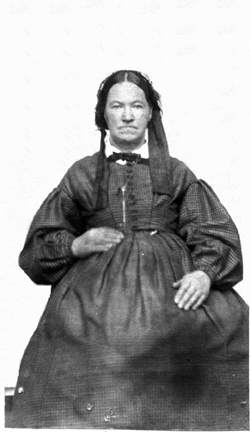 The first photo on this page is of Delight Kilton Bucklin [database reference # BUCK3460] (the wife of Moses Bucklin) who at the end of the 18th century was living in Grafton County, New Hampshire, and the photo of a family gravesite was sent to us by member Jill Foley. Ms. Foley came into possession of an old family album of Bucklin photos. She would like help finding out more about the photos she has of the Moses Bucklin extended family. She specifically has asked us to post her email address here (amajello@fohcinc.com) so people can contact her directly. See our privacy policy, which otherwise keeps private any information about living persons.
---
A portrait of Albigence Bucklin [database reference # BUCK11], drawn in charcoal and pencil, has been preserved within the Bucklin family line. The tradition is that Rebecca died as a result of a Indian attack and that then Albigence was mindful that he had no picture of Rebecca for him and the children to remember her. He hired an artist to draw the picture of himself, so that the children would at least have the picture of him, as a remembrance, after he died. This tradition is probably accurate, because George Bucklin, who told it to Leonard Alby Bucklin (who told it to Leonard Herbert Bucklin), was seven years old at the time of his mother's death and lived with his father Alby, and after marriage lived in the same town as his father for years thereafter.
---
Both of these are photos made on on tin sheet. George Bucklin (1853-1934) and his brother Earnest Bucklin (1858-1887). It was taken before he left Minnesota to go to Montana, where he died in a cabin on his ranch. The woman is their sister Florence Bucklin (1860-1942)